This is Blue, a F1b (curly) from Daisy & George. Born October 9, 2014
"He has been the best dog I have ever had! He is truly my best friend and I rarely leave the house without him! I would never buy another goldendoodle anywhere else." -Christina Collis
You can email Christina at Christinacollis@ymail.com
This is Penny, an F1b (wavy) from Snickers & George born in 2015
"I wanted to send a few pictures of Penny, She is a wonderful dog and we are crazy about her. She is so smart and so cute! She was born on March 31, 2015 to Snickers and George, so she is 5 months. The last vet visit she weighed 26 pounds. She is house brokenand loves our older dog, the Labrador, in some of the pictures. I really want to get another dog from you maybe in a few years. We love Penny so much. Thanks, Suzanne & Steve Ziegler"
you can email the Ziegler family at suziq914@fuse.net
This is Murphy (wavy F1b) from Lilly and Sammy, born in 2014. He is owned by the Maybrier family.
"We bought Murphy from you in 2014. He is now about 20 months old and perfect."
Click to email the Maybrier family: Elizabeth.Maybrier@esh.ukhc.org
​
This is Lucy and Henry. They are both wavy-curly F1B goldendoodles. Gail & Harold McGuffey ... "You named your kennel appropriately! These are the most loveable dogs imaginable!!!" & "They are great with kids!"
Click to email the McGuffey family: gail.mcguffey@gmail.com
​
This is Maxi from Diva and Sammy 2016
Kimberly Landreth says, "Here's a picture of our sweet little gal, Maxi Grinch! She's the best; she's every bit as stubborn as a girl can be. She knows what she wants! We love her!!"
"Maxi has had great check ups. She's adjusting well to our family."

This is Clover, F1B (wavy) Mini Goldendoodle from Twixy and Duke, born April, 2010.
She is owned by the Neumanns of Macomb, MI
"Clover is absolutely perfect! I'm not sure how normal it is for a pup to progress as fast as she has but we've had zero accidents and on day three she was already letting us know when she had to use the bathroom by sitting at the back door. She is now responding to sit and understands what it means. She socialized with a few other family dogs.. was great around our nieces and nephews and warmed up to anyone we introduced her to. Crate training is going well and she only whines for a few minutes about halfway through the night. Simply letting her know we are still there usually calms her down and she goes right back to sleep. She is sweet and laid back but also very playful. If you can't tell... we are very happy with the pup you picked for us!"
Click to send the Neumanns an email: becky.m.neumann@gmail.com
This is Sophie, F1B (wavy) medium goldendoodle from Amber and Duke born April, 2010.
She is owned by the Wisnieski family of Clive, Iowa
"We absolutely love our dog!! She was super easy to train (both potty and crate train)...has a great temperament, and is just a wonderful family pet!! We transitioned her out of the kennel during the times we aren't home just last week...she stays in the house now during the day for the 3 days I work out of the house (someone usually takes her out at lunch, but not always)...no accidents or chewing!! Can't say enough great things about this breed of dog, and the ease in purchasing her from you guys, and getting her to us in Iowa. We would definitely do it all over again..."
Click to send the Wisnieski family an email: wiz5@mchsi.com
This is Bella, F1B (wavy coat) standard size from Honey and Apache, born July, 2010.
She is owned by the Burcham family of Kennet, MO
"We added BELLA to our family in September, 2010.She has been such an amazing addition! Our experience with Charley and Anna was ideal.
Anna was super at keeping us updated with pictures and videos of Bella and her sisters as they grew, and Charley was so informative and
answered any questions we had when we arrived to take her home. She is now seven months old and has a beautiful, deep red,
non-shedding coat. She learns new tricks so easily, and is NEVER too tired to fetch a ball! She is always ready to jump up next to anyone and
snuggle. We are so thankful to have her in our family! Thanks, Loveable Doodles!"
Click to send the Burchams an email: beverlyburcham@gmail.com
This is Goldie, F1b (curly) medium goldendoodle from Autumn and Duke, born February, 2010.
She is owned by the Adams family, of Kentucky
"Goldie has been the best dog. She was fully housebroken by the time she was 6 months old and is only in her crate while we are at work. She makes friends with everyone. She stands on her back legs and gives hugs. She enjoys playing with our cats and has never been aggressive toward them. She loves, loves, loves car rides. We take her to softball and soccer games and she always behaves. She has boundless energy, but will rest when playtime over. Goldie is great with the kids and obeys commands from the kids just like she does from us. The only negative is that she will steal your socks!"
Click to email the Adams family: aladams3@yahoo.com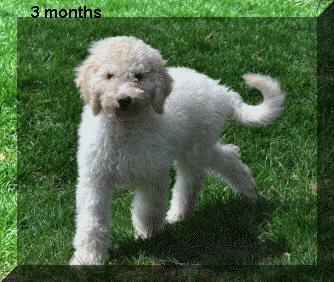 This is Oslo, F1B standard (curly) from Honey and Doodle, born January, 2010.
He is owned by the Shaw family of Green Bay, WI
"Let me give you an example of Oslo's temperament. Because Our Wisconsin roads are covered with snow an ice, it is important to wear boots to protect pads from the salt on the roads. Oslo is always willing to wear them throughout his 2 mile run. People stop me almost daily, asking how I got my dog to wear his boots. From what I am learning most dogs will not wear them. All I can say is that our puppy has always had an, " I want to please you attitude".
It was worth the 24 hour drive from Wisconsin to pick up our dog. He is a strong, healthy, intelligent, and lovable F1B Standard Doodle. We are very grateful to the professionals at LD in Kentucky, and anyone who is interested in a high quality Gooldendoodle should give serious consideration to Loveable Doodles. "
Shaw's e-mail address: doorhealthy@gmail.com
This is Cheaney, medium F1B (curly) from Lucy and Sammy, born in October, 2010.
He is owned by the Kleymeyer family of Indianapolis.
"He has been a wonderful pup! This week will be his fourth week of puppy school and the trainer says he far exceeds their expectations...
Cheaney is smart, loyal and loves to cuddle. We finally had a decently warm winter day so walked him to Broad Ripple for his first trip to "3 Dog Bakery"
Click to send the Kleymeyers an email: andrea.kleymeyer@gmail.com
Meet Fozzie, medium F1B (curly) from Lucy and Duke born April, 2010. He is owned by Brandy Keys, of Pleasant View, TN
"I love Fozzie's sweet temperament. He will lay his little head on our laps and just look up at us while we pet him. He soaks up every second! And so smart...we taught him to "sit" in less than five minutes. He is the perfect goldendoodle! "
Click to send Brandy an email: keyes.email@yahoo.com
Just wanted you to know Kipper (from George and Lily's litter) is settling in very well. He has already been to the famous Red Rocks Amphitheater. Mostly carried along the way, he was exhausted to say the least after a good steep hill climb! We are getting to know one another and my girls fell in love with him instantly. Thank you again!
-Kelly Bohnert